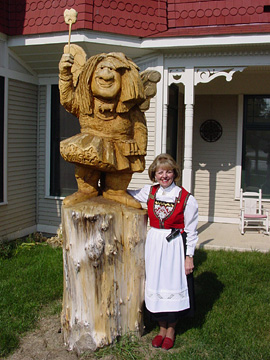 Some of you out there in beerland are so into your hobby that you plan side-trips to brewpubs and breweries on your travels (or entire trips if you're die hard). In that spirit allow me to point out a charming destination in Mt. Horeb, Wisconsin.

Mt. Horeb, affectionately known as the "Troll Capital of the World," a nod to the town's Norweigian heritage and Main Street which is lined with troll sculptures and nicknamed the "Trollway," is a classic Midwestern small town with a population of 5800. It lies about a 30 minute drive from the state capital, but is much further than that in terms of lifestyle.

The town's Main Street retains many original buildings, antique shops, a bakery, and most notably, the Mustard Museum.




Most beer lovers out there also carry an affinity for fine mustard, and as such, this is a required stop. The Mustard Museum features mustards displayed from around the world, and offers an equal sized gift shop where one can taste hundreds of mustards and of course purchase.

Right around the corner from the Mustard Museum is our featured attraction: The Grumpy Troll.


The Grumpy Troll was opened in 1996 in the former Mt. Horeb Creamery. The pub has 8 beers on tap including a wheat, an IPA, a Red Ale, and a Stout. The CCCP Stout and the Maggie IPA are the standouts in my opinion, but should you have trouble deciding, they sell a sampler featuring all 8 beers (plus a special brew if you're lukcy) in 4oz sample sizes.

The restaurant features a giant menu with plenty of dishes for the carnivore and vegitarian alike. The bratwurst is delicious and comes slathered in sauerkraut, accompanied, of course, by side of delicious mustard.

The Troll is a nice addition to the town's charming Main Street, and adds a destination for beer lovers and hungry townies and tourists. While the brewpub only has a few standouts, that's more than I can say for many brewpubs, and on the whole, it's well above average and worth visiting.