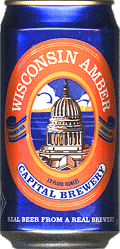 Wisconsin is home to many fine ambers: Sprecher Amber & Lakefront Riverwest Stein to name two.

Capital Brewery in Middleton brews a sturdy repertoire of beers in the German style including various bocks, Oktoberfest, and our BOTW, Wisconsin Amber.

Wisconsin Amber is a rich malty beer with just a hint of hop bittering and aroma. It pours a color true to its name, with a minimal white head that leaves some lacing on the glass.

The beer is carmelly and sweet, with just enough hops to even it out. It's loosely based on a Vienna lager, and is definitely hopped like one.

The mouthfeel is quite nice, with a medium body, soft carbonation, and a clean crisp finish. One could definitely have a few of these in one sitting.

From the perspective of a lager, there are few in the US that can match Capital and Wisconsin Amber is no exception. When judged against beers of similar style, WA stands out, and drinks easily.

Remember this one come fall; it's perfect paired with a crisp breeze.
Links of Interest:

Wisconsin Amber & German Beer Fish

PS: This BOTW is dedicated to my own Wisconsin Amber, who is moving away from her home in Madison to join me here in Minneapolis. I couldn't be happier.